Our Minecraft Best Seeds post features a bunch of newly found seeds to start your next Minecraft world. Using specific seeds is a great way to get your adventure started in an exciting area. With the random nature of landscape creation in the game, it's nice to guarantee what you are getting yourself into.
The Shortlist
Version 1.18: Since 1.18 is still new, they may still make significant changes to world generation. Some of these key locations might not be accurate, but the general layout and world generation likely won't change too much.

Java Seeds

Cliffs of Dover: -132767011038296039

Village Mountain: -5093690396081884077
Mountains and Caves: -607429394

Bedrock Seeds

The Goodlands: -78688046
The D&D Dream: 1613969106

Poolside Cavern: 292038360
Beautiful Mountain Ranges: 700682

Version 1.17 and Prior: We know some of you might still run the 1.17 or 1.16 versions! The following list is for you.

Java Seeds

From Mansion, With Love: 110918009997
The Carpenter's Dream: -3457725174793594040

Bedrock Seeds

All the Rare Things: 917317491
The Twilight Zone: -2024236026
Java Seeds (1.18)
Cliffs of Dover
Seed: 1613969106
On this seed, you spawn near massive cliffs overlooking a long, winding river. What's more than that, you are just a few blocks away from a village, which you can make your home as you adjust to the beautiful surrounds around you.
Key Locations

Nether Portal: 40 8
Village #1: 344 88
Outpost #1: 40 520
Village #2: 392 -216
Outpost #2: 328 -488
Village Mountain
Seed: 292038360
It may be hard to see, but three villages are surrounding the mountain in the image above. The best part? You spawn on that mountain! This seed is a wonderful option to use if you're just starting 1.18 and want to have a slight advantage while exploring the incredible new world generation. You can either use this as a starting point or reign over your village citizens below and build a giant castle on the mountain.
Key Locations

Spawn: 98 110 -139
Village #1: -15 100 -15
Village #2: -180 70 110
Village #3: -168 71 -150
Mountains and Caves
Seed: -607429394
There are two significant features about the shift to 1.18 world generation: the mountain ranges and the caves. This seed is the perfect seed to explore both of them immediately! You spawn right next to a deep cave that brings you to some of the lowest spots you can reach. Then, you only need to make a short hike to land in a valley between two large, majestic mountains!
Key Locations

Spawn: 15 74 10
Spawn Mountain Peak: 380 178 75
Garden of Eden: 360 195 -365
Village: 275 150 -495
Bedrock Seeds (1.18)
The Goodlands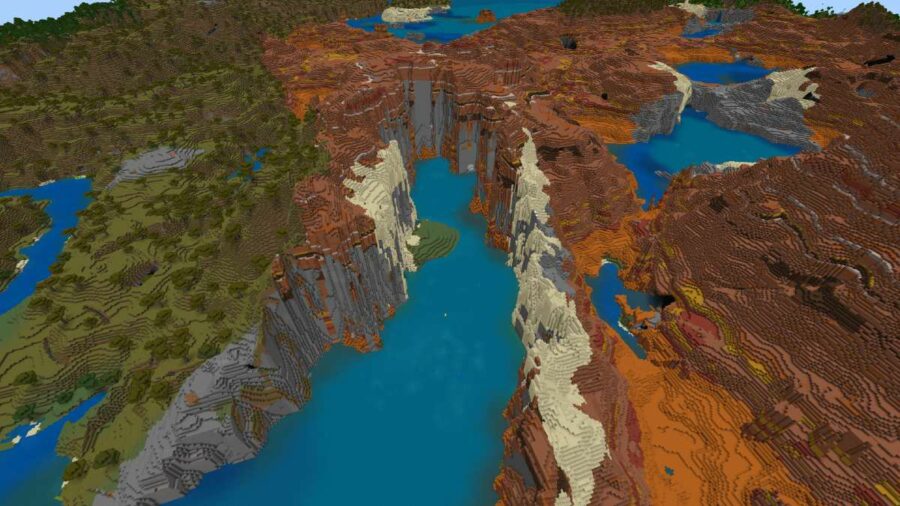 Seed: -78688046
This is our favorite seed so far for Minecraft 1.18. You spawn in what is supposed to be the Badlands, but the size and beauty of it all are anything but bad. In the Badlands, you'll find massive craters filled with water and a Coral Reef in a massive alcove that separates the Badlands from a sizeable Savannah biome.
Key Locations

Village: -360 -360
Abandoned Village: -872 -296
Jungle Temple: 40 696
Stronghold: -812 -844
Nether Portal: 120 -280
The D&D Dream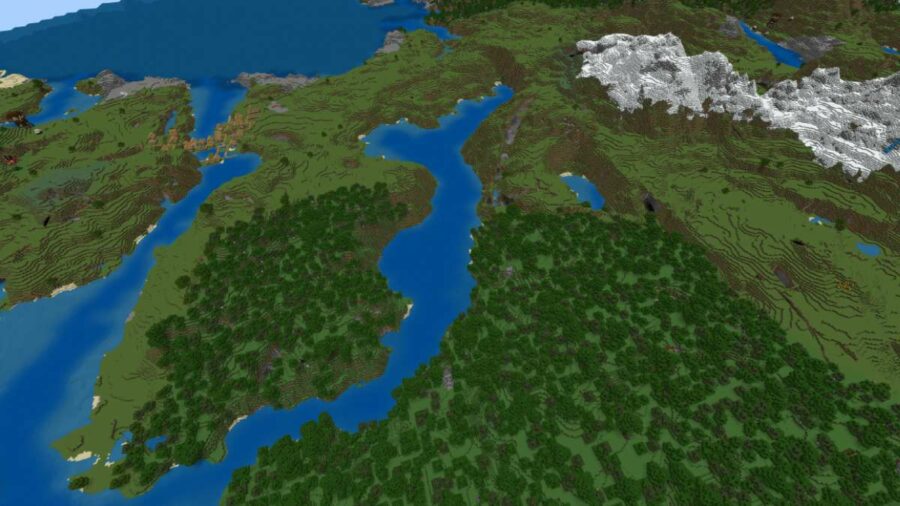 Seed: 1613969106
It might be hard to see, but there is a lot going on in the image preview above. This seed spawns you right in the middle of a Dungeon Masters dream world. You start near a long river that leads to a port city overlooking an ocean. Near this city are two things: an Outpost and a Nether Portal. Across the river is a short mountain range, and in a different direction you'll find a massive forest. This map is certainly an easy one to make an adventure.
Key Locations

Port City: 40 296
Mountain Ranges: -430 200
Outpost #1: 296 392
Outpost #2: -872 376
Nether Portal: 280 328
Poolside Cavern
Seed: 292038360
On the opposite end of the majestic mountains listed in the seed prior, we have the other primary feature of 1.18 world generation: caves. This is one of the best seeds to see what cave generation is about in this new update, and what better way to enjoy it than in a pool? In the image, you can see a small pool overlooking a massive hollowed out chunk of land, which can't possibly be frightening to an adventurer such as yourself.
Key Locations

Spawn: 0 68 0
Poolside Cavern: -505 55 590
Nether Portal: -350 65 170
Beautiful Mountain Ranges (1.18+)
Seed: 700682
This was one of the best views we could find for the new world generation for mountain ranges, and thus the perfect way to begin playing Minecraft 1.18. This seed puts the beauty and versatility of the mountain generation on display, including mountain peaks in multiple environments all close together.
Key Locations

Spawn: 32 78 -288
Nether Portal: 70 73 -308
Abandoned Villaged: -140 71 -295

Mountain Ranges: -315 140 -315
Java Seeds (1.16/1.17)
From Mansion, With Love
Seed: 110918009997
If you love Woodland Mansions, then you'll love this seed. At spawn, you find yourself in a thick heart-shaped forest outlined by sand and completely encased in a giant Badlands Biome! At the heart of this Forest is a Woodland Mansion, just waiting for you to loot. You know what they say about Minecraft*: Mansion Home is where the heart is!
*Nobody says this.
Key Starting Locations

Woodland Mansion: 285 75
Pillager Outpost: 245 -150
Ocean Monument: -840 -710
Village #1: -730 -440
Village #2: -360 250
The Carpenter's Dream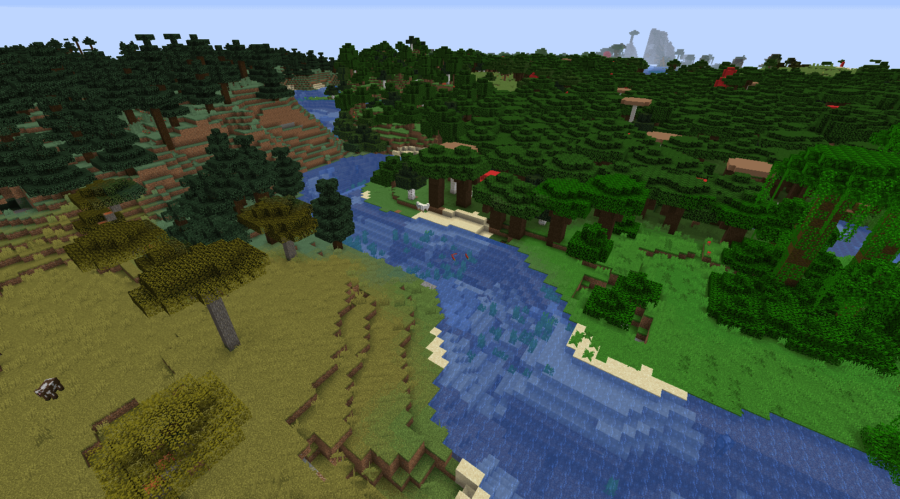 Seed: -3457725174793594040
This is a special seed because it features something we have never seen before: all types of Overworld wood are within 20 blocks of 0 0. In the image above, you can see Acacia, Spruce, Oak, Birch, Dark Oak, and Jungle Wood are all there. This seed is perfect for those that like to have variety when they're making their first base. It also means you'll have access to every type of tree until you find a better map. This truly is one of the rarest world-generation Easter eggs you'll find.
Key Locations

Stronghold #1: 1396 40 -125
Stronghold #2: -956 40 -1292
Mineshaft #1: 100 30 20
Mineshaft #2: -55 30 105
Skeleton Spawner: -45 35 -149
Bedrock Seeds (1.16/1.17)
All the Rare Things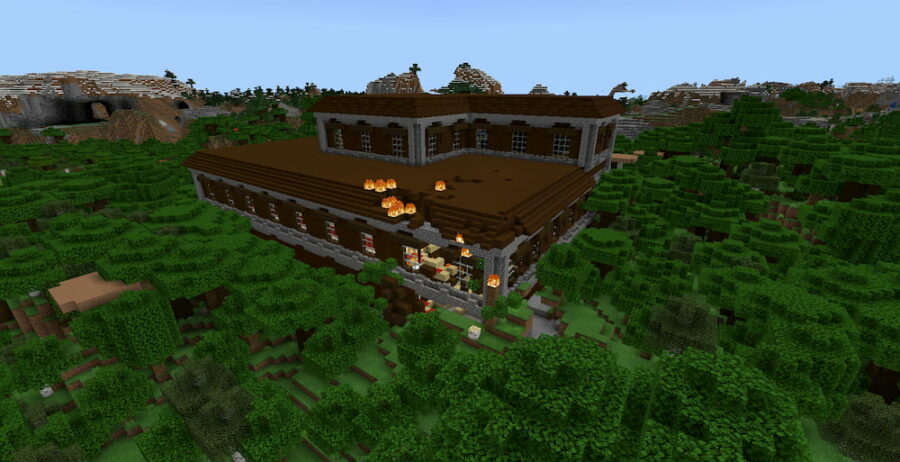 Seed: 917317491
You'll find all the rare things near each other in this seed, starting at the Mansion that doesn't generate far off from spawn. This seed is perfect for players that are always on the hunt for a good seed because of how rarely these things generate. The fact that they generate so close together is that much better. Follow the Key Starting Locations below to see what that amazing seed has to offer.
Key Starting Locations

Mansion: 548 -1077
Jungle & Mesa Biomes: 1065 -1060
Ice Spikes Biome: 120 -2120
Mooshroom Biome: -650 700
End Portal #1: 985 -1060
End Portal #2: 810 -813
The Twilight Zone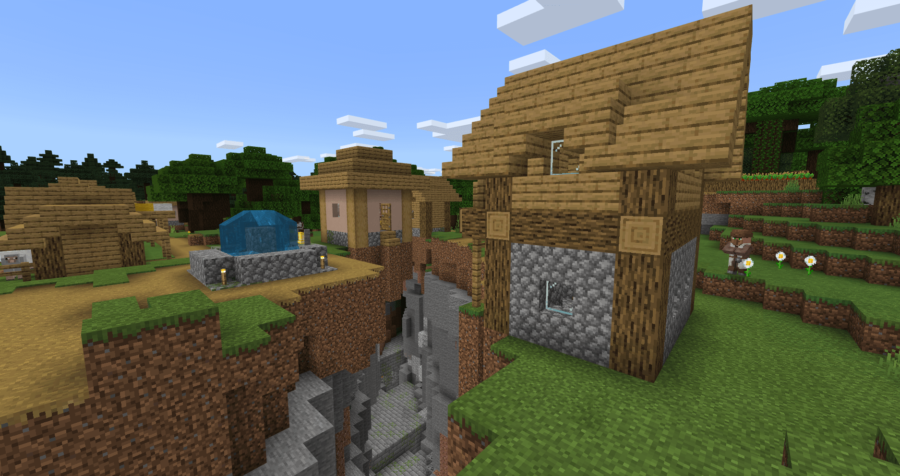 Seed: -2024236026
There is something strange about this village. The Villagers seem oddly quiet and only communicate via disapproving grunts and trade requests. At night, moans come from deep underground, and there is an overwhelming sense of evil in the ravine that splits the village. What's down there? You'll have to travel a short distance away from spawn to see.
Key Locations

Village: 965 80 120
Stronghold: 965 60 130
Mineshaft #1: 1080 40 -170
Mineshaft #2: 1270 40 -70
Double Spider Spawners: 575 26 -105 | 584 24 -106
Don't forget: All Bedrock seeds work on all versions of Minecraft except the PC Version, which runs Java. Minecraft for Windows 10 also uses Bedrock Edition!