We're looking at some great Minecraft Island Seeds for you to try in your next world! These are for both Bedrock and Java, so you'll be able to find something you like on any platform. Who hasn't envisioned what it would be like to live secluded away on an island? Well, you can make that vision a Minecraft reality by using one of these seeds and building yourself a nice island villa!
Minecraft Island Seeds
The Shortlist
1.18: Because 1.18 is still new, Mojang may change the world generation in a way that might affect the seeds. While we don't believe it will cause major changes to the environment, this may cause some of the key locations for each seed to be inaccurate.

Java

Jungle Eclipse: 2038737658577796220
Rock and Water: 3969420520284585470

Bedrock

Hawaii: -1863639429
Survivor's Delight: -413557441

1.17: We know some of you are still running 1.16 and 1.17! We will cycle these out in the coming months, but here are the last seeds we had for the best island seeds for 1.16+.

Java

Bamboo Island: 6622662217031624373
The Mushroom Island Portal: -3908250054731677001

Bedrock

Frozen Mushroom Island: -2109507520
Gulla Gulla Island: 339777425
Java 1.18 Seeds
Jungle Eclipse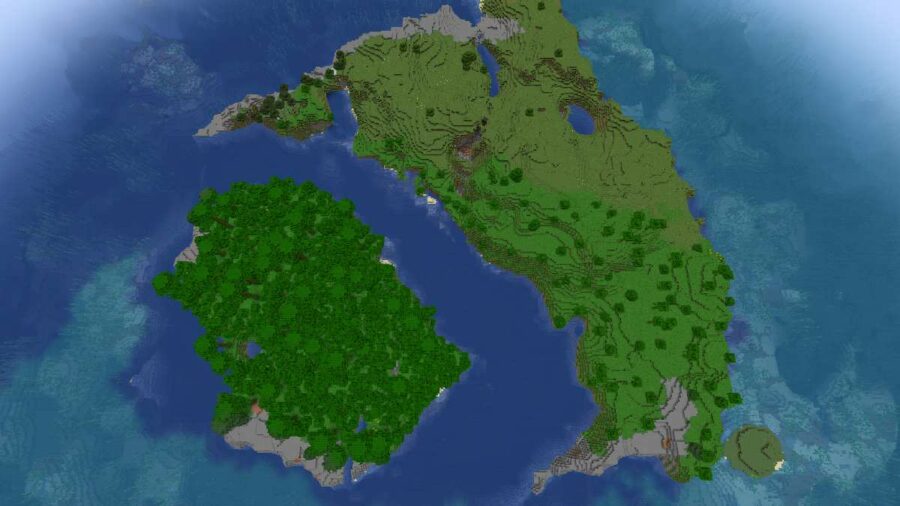 Seed: 2038737658577796220
This is a wonderful Jungle spawn that puts you on a Jungle island that, from above, appears to be eclipsing another island. You can opt to enjoy solace in the middle of the ocean, or you can travel a few hundred blocks east or west to find plenty of other biomes! This seed provides everything you might need for Jungle living.
Key Locations

Cluster of Ruins: -248 72
Shipwreck #1: -344 152
Shipwreck #2: -360 -184
Shipwreck #3: 232 184
Nether Portal: 360 136
Rock and Water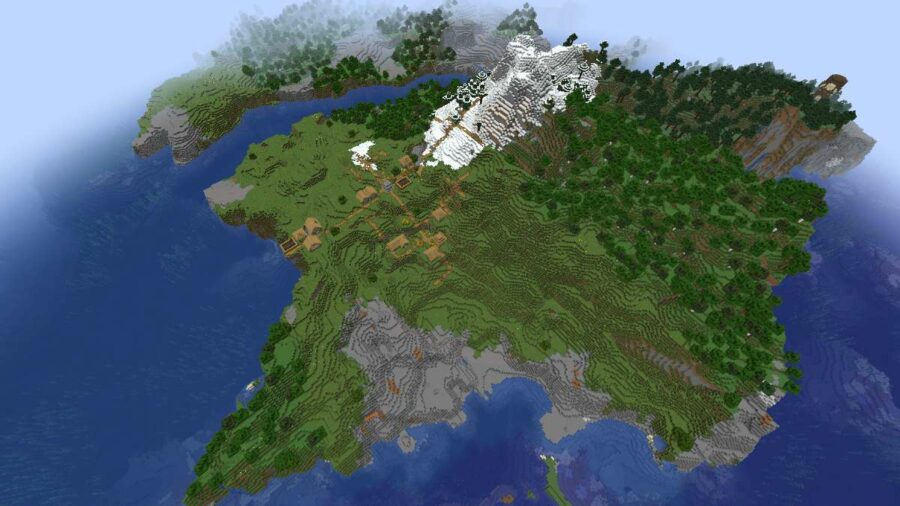 Seed: 3969420520284585470
You spawn on a rather large island in this seed with several other islands nearby. This seed is great for starters because it starts you in an area that you can roam for weeks or months, but you're not too far off from mainland when you're ready to move on. You also have a beautiful view from the mountain, where you can see the surrounding structures, which includes two Villages and an Ocean Monument!
Key Locations

Village #1: -280 328
Village #2: 216 664
Ocean Monument: 136 168
Shipwreck #1: 200 296
Shipwreck #2: -456 248
Bedrock 1.18 Seeds
Hawaii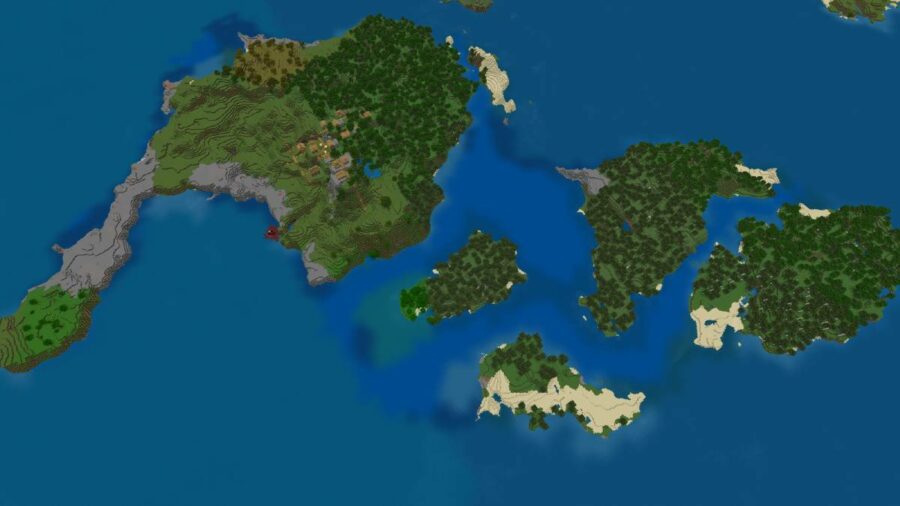 Seed: -1863639429
It's not a perfect representation to the Hawaiian islands, but it's pretty close by Minecraft world generation standards! In this seed, you spawn on the largest of a cluster of islands, right next to a Village. This is a great starter seed for new players or for players who want to get used to Minecraft 1.18. Be sure to explore the area to find the Buried Treasure and the Ocean Monument!
Key Locations

Village: 56 232
Buried Treasure #1: 136 8
Buried Treasure #1: 72 -40
Buried Treasure #1: 72 -104
Ocean Monument: -200 -200
Survivor's Delight
Seed: -413557441
If you were looking forward to experience Minecraft 1.18 in true solitude on a basic survival island, this seed is for you. This is the ideal formation for players who enjoy life on the see, with one half of the spawn island a breezy beach, and the other half full of wood and stone for you to establish a nice home.
Key Locations

Mushroom Fields: -26 66
Ruins Cluster: -280 8
Buried Treasure: -696 72
Shipwreck #1: -760 24
Shipwreck #2: -920 -120
Java 1.16/1.17 Seeds
Bamboo Island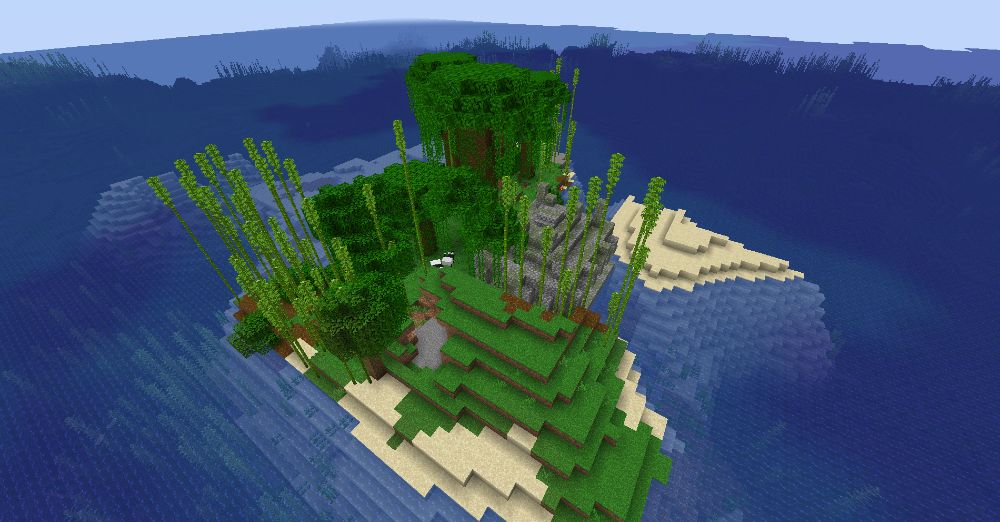 Seed: 6622662217031624373
This is a unique seed that starts you off on a small bamboo island, complete with a Jungle Temple and a pair of Pandas! This island seed is perfect for players who love Pandas, a somewhat rare mob in the game. You don't start off completely dry, though. There are plenty of trees for getting logs, the Temple provides some decent material, and the Pandas provide company.
Key Locations

Jungle Temple #1: 25 55
Jungle Temple #2: 615 75
Jungle Temple #3: 675 -215
Stronghold: 1524 212
Ocean Monument: -280 -230
The Mushroom Island Portal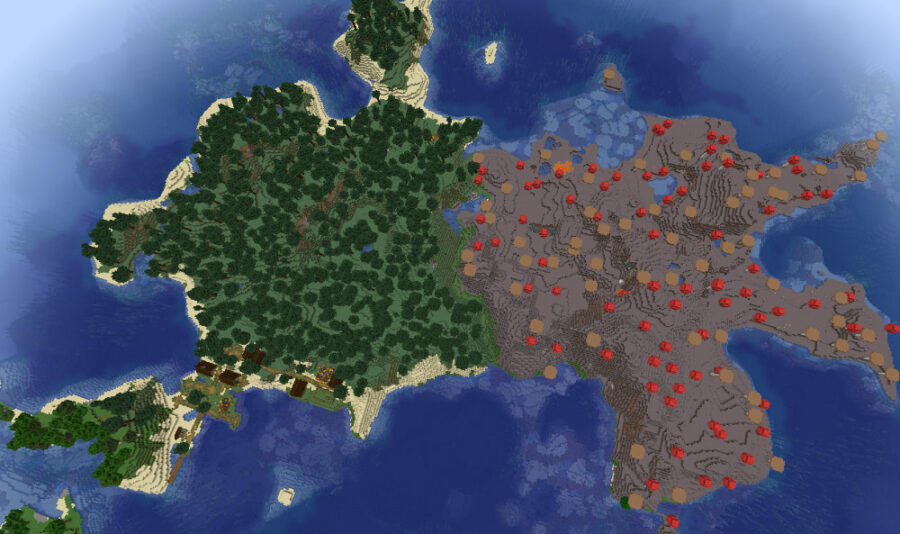 On this map, you don't start on the island being featured, but it's not far off from the world's spawn point. The massive island is half Birch Forest with a village and half Mooshroom Island. However, as rare as that is, what's more fascinating is that directly below the village is a completed 12 Eye Portal inside a Stronghold. If you're looking for a killer seed that will get you to the Enderdragon fast, this one is perfect for you.
Key Locations

Stronghold Stairway: -2124 -732
Mineshaft: -2150 -600
Ocean Monument: -2460 -800
Zombie Spawner: -1989 -514
Taiga Village: -2200 -775
Bedrock Seeds
Frozen Mushroom Island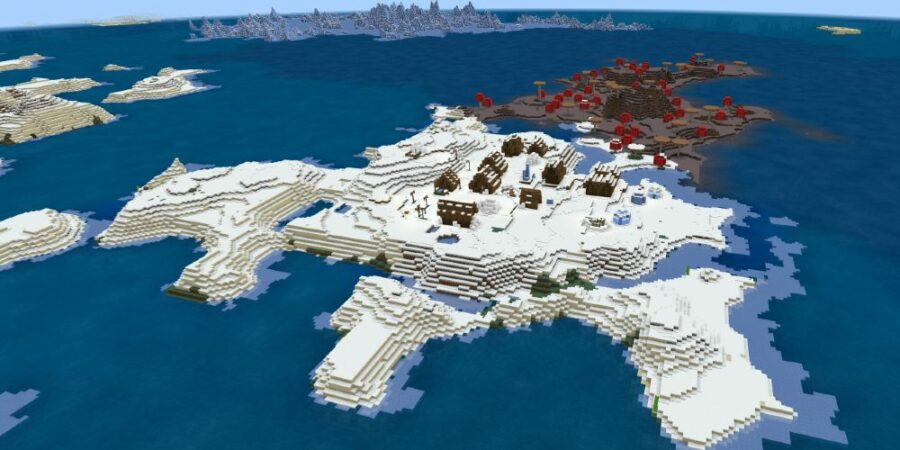 Seed: -2109507520
In this seed, you don't start at the featured island, but it's not too far away! And the coordinates are easy to remember: 0, 0! This is a unique island seed where the two biomes mushed together are Frozen Tundra and the all-too-rare Mushroom Biome. Be sure to pick up all the tree saplings you can as you journey here from spawn; you won't find any trees. Once you make it, nestle in to the warm village and build your empire from there!
Key Locations

Snowy Village #1: 250 240
Snowy Village #2: 220 -350
Mushroom Biome: 335 245
Stronghold: 596 -636
Ocean Monument: -855 230
Gulla Gulla Island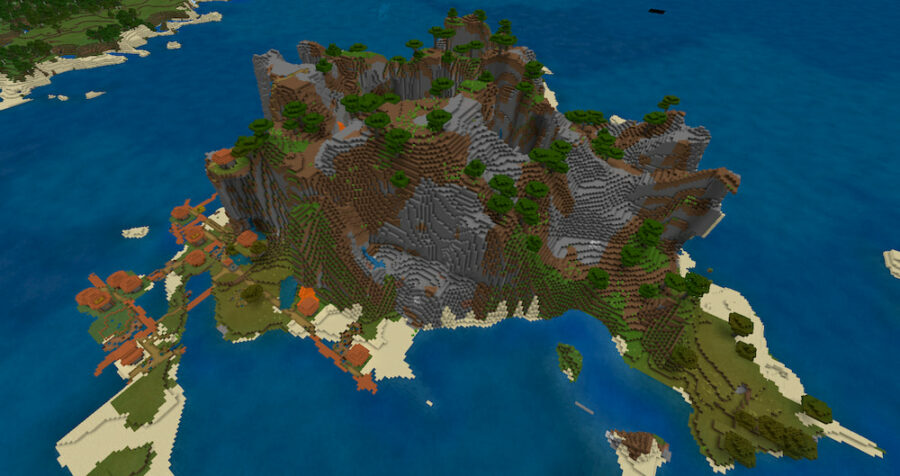 Savannah islands are one of the rarer types of islands in Minecraft, and this one has a beautiful one right at the coordinates 0 0. This is not only a great island seed, but a great Survival seed in general. This is a well-protected island with hollowed out mountains, plenty of lava sources and a Savanna Village at the very tip. This is an ideal paradise for new players who are still learning the ropes, or veteran players who are looking to start a world in the most peaceful way possible.
Key Starting Points

Village #1: 135 55
Village #2: 150 600
Village #3: 580 555
Spider Spawner: -25 -63
Zombie Spawner: 109 -37
If you want to add some additional excitement to some of these seeds, then check out our Best Minecraft Mods post!